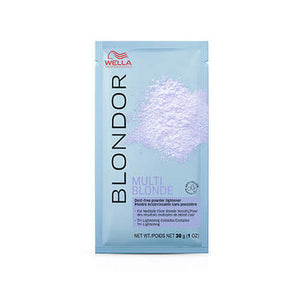 MULTI BLONDE POWDER LIGHTENER: from Blondor's high quality range of specialist lightening products *For Multiple Clear Blonde Results *Tri-Lightening Complex *With Anti-Yellow Molecules Controlled and reliable lightening with up to 7 levels of lift
USE
*For all application techniques STEP 1: Lightening Preparation: Perform a strand test before application and follow instructions of developer. Depending on the desired degree of lightening and consistency, mix with/ Koleston Perfect Developer 6% 20 Vol., 9% 30 Vol. or 12% 40 Vol. or Color Touch Emulsion 1.9% 6 Vol. or 4% 13 Vol. in a ratio of 1:1.5 up to 1:2 in a non-metallic bowl. The lower strength of developer, the gentler the lightening process. When applying lightening product to the scalp, do not exceed 6% 20 Vol. developer.
Application: Apply the lightening mass evenly to the unwashed hair. The development time depends on the condition of the hair and the desired blonde result. Carefully check hair every 5-10 minutes during process. Do not proceed further if adverse reaction occurs during treatment. (e.g. itching, burning or rash or any unexpected reaction), stop and immediately rinse with lukewarm water. If necessary, seek medical treatment. The maximum total development time is 50 minutes. STEP 2: After-treatment: Rinse out the lightening mixture thoroughly with lukewarm water and shampoo. Apply BLONDOR BLONDE SEAL&CARE after rinsing for shine and care.
INGREDIENTS

POTASSIUM PERSULFATE, SODIUM SILICATE, MAGNESIUM CARBONATE HYDROXIDE, MINERAL OIL/HUILE MINÉRALE, AMMONIUM PERSULFATE, SODIUM STEARATE, XANTHAN GUM, ORYZA SATIVA (RICE) STARCH, ALGIN, DISODIUM EDTA, ULTRAMARINES, SILICA.